The Young Agents Conference is geared for agents that are 40 or younger, agents in the business less than five years or those agents young at heart.  The conference hosts roundtable exhibitors for a great networking opportunity with company representatives.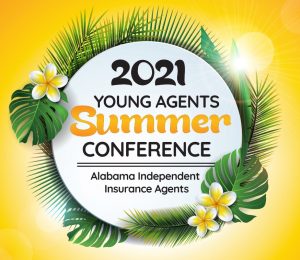 SCHEDULE OF EVENTS
Thursday, July 29
2:00p                                    Registration Desk Opens
7:00p   –  9:00p               Reception/Dinner - Entertainment by Cooper Trent
Friday, July 30
9:00a                                      Breakfast Buffet
9:30a    – 11:00a              Presentation by Major Gregory Ross Sanders
Door Prizes – Have to be present to win!
11:00    – 12:00n              Flood 2.0 Presentation by Dave Treutel with Treutel Insurance Agency, Inc.
Afternoon & Evening    Lunch on Your Own/Cornhole Tournament/Dinner on Your Own
Saturday, July 31
8:30a                                      Breakfast Buffet
9:00a   –  11:30a              Roundtable "Meet & Greet" Exhibits
11:30a                                   Door Prizes – Have to be present to win!
11:45a                                   Lunch on Your Own – Cornhole Tournament on Beach
7:00p                                     Closing Reception & Awards Banquet - with Cornhole Finals
FEATURED SPEAKER: MAJOR GREGORY ROSS SANDERS
Major Sanders was born and raised in Homewood, Alabama, graduating from John Carroll Catholic High School in 2000, and the University of Alabama in 2005 with a Bachelor of Science in Education. He was Commissioned as an Officer in the United States Marine Corps in 2005, and was designated a Naval Aviator in 2008. He flew AH-1W SuperCobra Attach Helicopters until 2012, deploying aboard the USS Essex with the 31st Marine Expeditionary, to Okinawa, the East China Sea, and the Philippines.  From 2012 to 2015 he was the Air Officer for the 22D Marine Expeditionary Unit, and deployed aboard the USS Bataan to the Mediterranean Sea, Arabian Gulf, and middle east. In 2016 he was selected to Marine Helicopter Squadron One, known as HMX-1, where he flew the President and Vice President of the United States in the VH-3D Sea King and VH-60N White Hawk. He is currently the Operations Office at VMR Andrews, flying the UC-35D. He resides in Stafford Virginia with his wife Megan and their six children, Melissa, Clara, John Ross, Mary, Lucy and Luke.