ABEN Live & Video on Demand Webcasts
ABEN Online Classes - ABEN is a collection of 42 Big I affiliated state associations that have formed the Agents & Brokers Education Network (ABEN) to offer professional insurance training using live webcast technology.  Alabama is able to offer you the live (date and time specific) as well as the incredible, flexible format,  video on demand for CE (polling questions) - NO TESTS!  All webcasts will stream professional instructors right into your computer, laptop or tablet. You will receive the related course materials and the ability to ask questions.  We even offer E&O Risk Management premium discount qualified seminars in these formats too!
AIIA approved courses are listed below with links to register or See the complete ABEN catalog!
New to ABEN??  We are offering a 40% discount on your 1st purchase - use code 1stABEN40 at check out!
Recognize. Respond. Survive. Active Shooter Response Training (2-CE) by Andy Sexton and Chad Ayers of Proactive Response Group 
Cybersecurity Risk and Insurance Are... (1-CE) by Richard Pitts
Covid-19 Litigation and Insurance Issues (1-CE) by Richard Pitts
Registration Link: https://aiia.aben.tv/item/national-aben-day-gear-violence-viruses-hackers-432278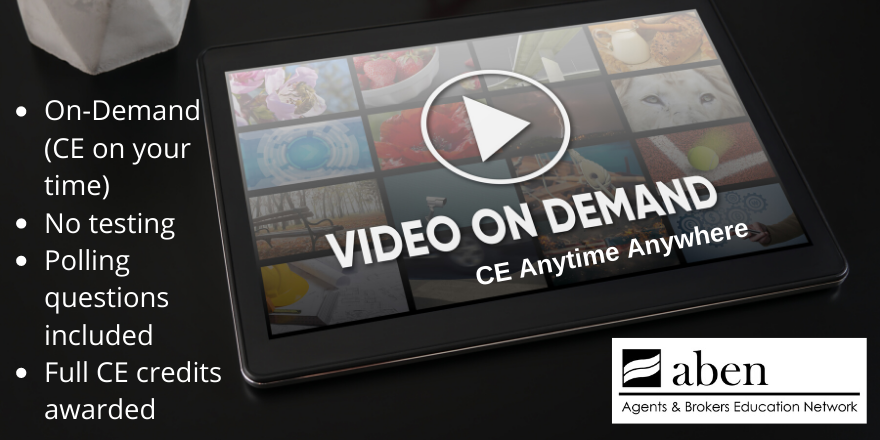 Catalog Courses with Links to Register
The Trusted Choice Annuity Suitability Course satisfies the 4-hour requirement for agents that are life insurance licensed that want to offer annuities. For more information regarding the course visit: www.guaranteedincome.net
Environmental Strategist Part 1 - Part 4
Completion of all 4 classes will lead to a special designation - each course will include testing. Courses also include Special Bundle Discounts when registering...!!
Strategies for Transferring Environmental Exposures (Part 2)
Environmental Risk Management (Part 3)
Developing and Executing Environmental Management Strategy (Part 4)