Young Agents Chair Report
YOUNG AGENTS REPORT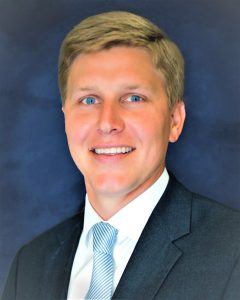 As I step into the role of Young Agents Chairman, I am honored for the opportunity to serve and very excited for a wonderful year ahead. With uncertain times still looming and many business sectors hanging on for dear life, it is vital that we continue to keep a positive attitude, stay connected and up to date with our clients and companies and show that we will always have our client's best interest in mind. Guiding our clients during times like the current will show that we truly are advisors and mentors.
I am so proud of our association for continuing to conduct business as usual. We were able hold a very successful Young Agents Conference in Pensacola even though attendance numbers were down due to travel restrictions. Dr. Kevin Elko blew it out of the water by delivering a phenomenal message. Some of the key takeaways from his performance were; "So what….Now what" "Change the changeable, accept the unchangeable, remove the unacceptable" "Don't look for blessings to come into your life, but instead, look to be a blessing in someone else's life" and "Keep Chopping". I believe we can all apply these mindsets in our lives, especially during these times. In addition, we were very grateful for our carrier participation and sponsorship of the conference. We certainly could not do it without the help of our carriers and the wonderful staff at the Big I.
We will also be holding our annual Pat Owens Big I Pac Golf Classic this year at Timberline Country Club on September 22nd. This event always draws a large crowd and we look forward to continuing that trend as we support our Big I Pac and their efforts to improve our industry.
Lastly, I strongly encourage everyone to get involved and stay involved with Young Agents. I promise you, It is a wonderful experience and offers countless opportunities for you and your career. In addition, the relationships I have established with our fellow Young Agents are some of the best relationship that I have and cherish dearly. Please do not hesitate to reach out to myself or any of the staff of the Big I if you are interested in joining Young Agents. We welcome you with open arms!
Keep Chopping,
Charles B. Bailey, IV, CIC