AIIA Convention & Trade Show
125th Annual Convention & Trade Show
IT STARTS WITH US...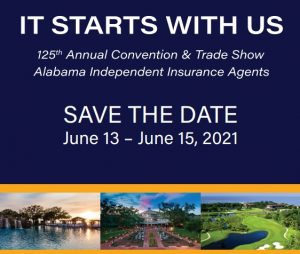 Join us at the Grand Hotel Golf Resort & Spa in Point Clear, AL on June 13-15!!
Hotel Reservations: The Grand
Hotel Discount Code: Alabama Independent Insurance Agents
Reservation Number: 1 (855) 999-0490
Booking Website: https://book.passkey.com/go/alindependentinsurance2021
Hotel Cut-off Date: May 14th
ONLINE REGISTRATION
REGISTRATION FORM
SCHEDULE OF EVENTS
First STEP Sponsors need to register manually using the above Registration Form in order to receive the discounted rates.
Exhibitor Information for Booth Layouts will be available soon.
SCHEDULE OF EVENTS
Saturday, June 12th
3:00 - 5:00          Registration Desk Open for early arrivals
Sunday, June 13th
8:00 - 6:00          Registration Desk Open
9:00 - 10:30        AIIA Board Meeting & Continental Breakfast with Jon Jensen, Chair IIABA
10:00 - 4:00        Exhibitor Set Up
6:00 - 10:00        Meet on Julip Point for Cocktail Reception & Seafood Buffet
Entertainment: "Mr. Big & the Rhythm Sisters" 
Monday, June 14th
7:00 - 1:00          Registration Desk Open
7:00 - 8:00          Exhibitor Set Up
8:00 - 9:30          Kick-Off Continental Breakfast with Guest Speaker: Dr. Kevin Elko
9:00 - 12:30       Trade Show
12:30                      Lunch on Your Own & Free Afternoon
6:30 - 10:00        A Fiesta Evening for ALL with Reception and Dinner at Julip Point
Entertainment: Roman Street
Tuesday, June 15th
7:00 - 12:00         Registration Desk Open
8:30 - 11:30         Breakfast Buffet and...
9:00                          Annual Business Meeting, Election of Officers & Directors with Installation by IIABA Chair Jon Jensen
9:30                          Richard Simmons, III, The Center of Executive Leadership
10:45                       Scott Addis, Beyond Insurance (Trusted Risk Advisor)
11:45                       Lunch on Your Own & Free Afternoon
6:30 - 10:00        Closing Reception & Dinner
Presentation of Awards, Recognitions & Transition of Leadership