Pat Owens BIG I PAC Golf Classic
The tournament is held to raise funds for our state Political Action Committee. These funds are then given out to those running for office that are pro-insurance for the independent insurance agency system.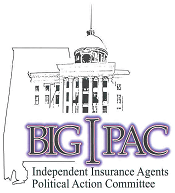 Timberline Country Club, Calera
September 17, 2024
A message from Big I PAC Chair/Legislative Chair Larry Burkman
The Pat Owens Big I PAC Golf Tournament is the only fundraiser for our Big I PAC, so we want it to be a HUGE success.
Our successes include dram shop/ liquor liability law in 2023, allowing agents to charge fees, changing building and roofing codes, no texting while driving laws, mitigation credits, and electronic verification of automobile liability insurance (2011), which increased the number of insured drivers in Alabama by 25%.
I hope to see everyone at the Timberline Golf Club in September.