We all see it. And let's be honest, we all do it. Distracted Driving
Texting while driving, eating or putting on make-up or yes, reading a book while driving 70 mph on the interstate. How about a driver and a passenger both on their phones? Two adults and ZERO eyes on the road. GAH! As insurance agents, we of all people should know better!
ABOUT THIS CAMPAIGN
A texting driver is 23 times more likely to be in an accident than a non-texting driver, according to the Strategic Highway Safety Plan.  There were 57 certified distracted driving fatalities in Alabama in 2020, the pandemic year with less drivers. Working together works, and we can certainly do our part as insurance agents to teach and encourage a No Phone Zone while driving.
AIIA President Joni Holt asks you, our member agencies and companies, to join us this summer in a shared Distracted Driving Social Media Campaign.  Working together we an make a BIG difference by sharing this message with our customers, on our social sites and any other advertising endeavors.
We've created a consistent message and theme members can use for FREE. It will only take a few minutes to download and to drop your contact information and logo on the social media Facebook template images. Then you can post on your social media sites to inspire better driving habits.
HOW DOES IT WORK?
Download the Blank image template(s) from the SmugMug link here https://alisonray.smugmug.com/Distracted-Driving-Campaign-Templates/n-jKRq78/ . Download using the green down arrow or right-click / save as.
Images include place holders where you can insert your agency contact information and logo.  For branding purposes, the Trusted Choice Logo remains in blank templates allowing space for text copy.  Images without the Trusted Choice logo are also there.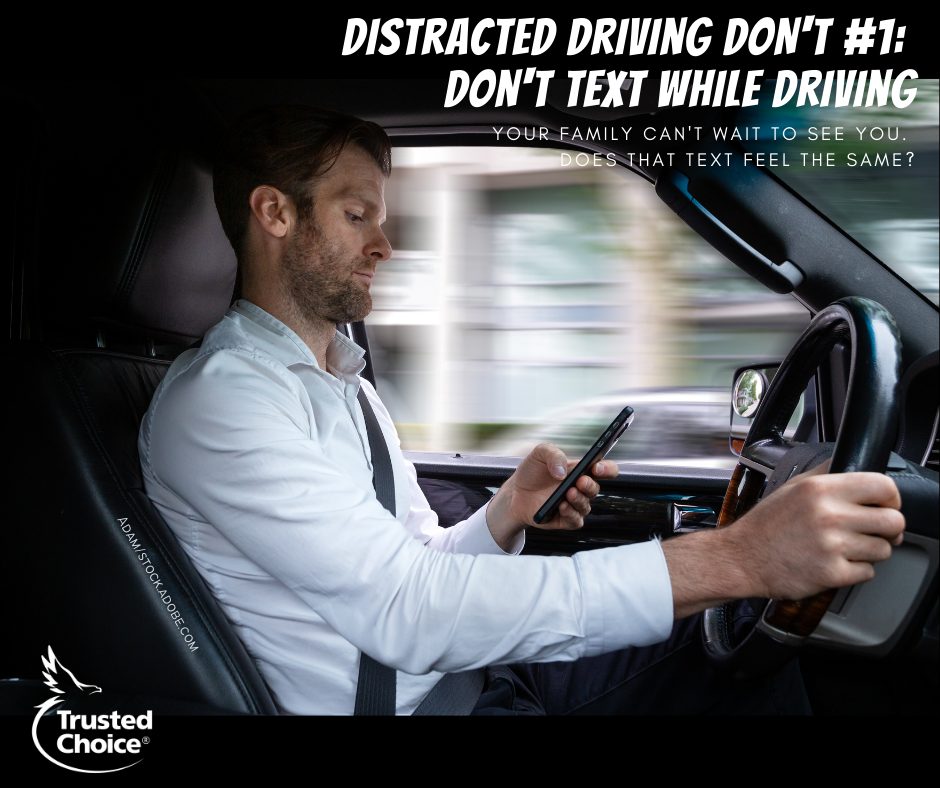 New to graphic design or photo editing? AIIA recommends Canva at www.canva.com . Canva is FREE and easy to use.  Other design programs include Picsart, Adobe Express, Adobe Photoshop.
Have a social media staff person and want to do your own thing? GREAT!
Please share with your staff member and share their contact details with AIIA.  We're teaming up with social teams across the state to increase everyone's awareness by sharing and tagging. They'll know what this means if you are unfamiliar.  
Still need help?
AIIA is partnering with a third party if you'd like to take your Distracted Driving Campaign to the next level. Basic fee is $200 to add a logo and contact info to images. If more content is desired, we will help. Contact AIIA Communications Director Alison Ray at aray@aiia.org or 205.326.4129, ext. 108 to learn more.