Coverage Access for your Clients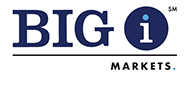 Big "I" Markets, connects member agents with top tier insurance markets. More than 10,000 Big "I" member agencies nationwide have looked to Big "I" Markets to access our affluent homeowner and personal package programs, bonds of all types, commercial auto, commercial package policies, community bank package, cyber liability, flood insurance, habitational program, non-standard homeowner, real estate agents E&O, and more. Big "I" members enjoy ease of access with no volume commitments or fees coupled with a trusted partner. Register to begin submitting quote requests for more than 30 products online at www.bigimarkets.com.
​​​​
Key Benefits
Ownership of expiration's
No initial access or termination fees
No obligation to submit other accounts
​
Making Busi​​ness Easy
EFT commission payments
Only one login needed to access all program
Weekly e-newsletter featuring product knowledge and special interest pieces​
Learn Mor​e
To review a list of products available please click here . More in-depth information on each product can be found in our 2020-2021 Big "I" Markets Product Guide or after logging in to www.bigimarkets.com.​
​Questions? We are here to serve you. Contact bigimarkets@iiaba.net or call (703) 647-7800.​
Cyber Liability Coalition
Independent Market Solutions