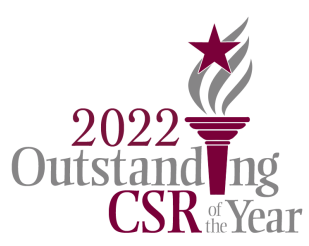 Want to shine a spotlight on an AWESOME CSR? You can do so with the National Alliance's CISR of the Year Award.

Outstanding CSR Info Packet
Outstanding CSR Nomination Form
Outstanding CSR Entry Form

Deadline for entries is May 1st.

New for 2022, another required entry item has been added for the National portion of the competition. Once someone is selected as the state winner, they will then be required to submit a video entry to qualify on the National level.  Video guidelines will be sent to state winners once they have been selected.

The contest requirements and judging will remain the same on the state level.  No extra work will be needed on your end.  Just like we have always done, The National Alliance will handle the judging portion of the state winners qualifying for the national award.     For more information, contact Tangerie Underwood at tunderwood@aiia.org or call 205.326.4129, ext. 105.